If your both a catfish and a cheese lover then this recipe is perfect for you. Combining the great flavors of both catfish and parmesan cheese this cafish recipe is spectacular. You have already tried many recipes for catfish but if you have yet to try this one then you are surely missing out. We are all looking for new twist and flavors to add to our baked catfish recipes and what better to do it with then cheese. Next time catfish is on your menu be sure to try this Parmesan Catfish recipe as it is sure to be a hit with your family and friends. Not only is it packed with tons of great flavor but its an easy catfish recipe so it won't take you all day to prepare and it is one of the more healthy catfish recipes. This will quickly become that catfish recipe your always getting asked to prepare again and again.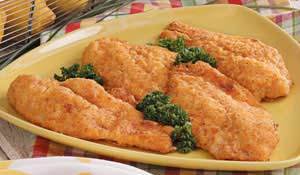 Ingredients:
6 Catfish Fillets
3/4 Cup Bread Crumbs (dry)
3 tblspoons Parmesan Cheese (grated)
1/2 Cup Butter (melted)
2 tblspoons Fresh Parsley (chopped)
1/4 teaspoon Paprika
1/8 teaspoon Oregano
1/8 teaspoon Basil
1/2 teaspoon Salt
1/8 teaspoon Black Pepper
Recipe Directions:
In a bowl combine your bread crumbs, cheese, parsley, paprika, oregano, basil, and pepper and mix well. Add your melted butter to a seperate bowl. Dip each catfish fillet into the butter coasting it well and then into your bread crumb mixture again making sure fillets are well coated. Arrange your coated fillets on a greased baking sheet or pan size 13×9 or a little larger.
Now bake in a preheated 375 degree Oven for 20-25 minutes or until your catfish fillets are cooked through and flakes easily using a fork. Recipe serves 6 with a prep time of approx 15 minutes and a cooking time of approx 25 minutes.