One of the most popular recipes for catfish of late is that of blackened catfish. There are many great ways to enjoy but few of them are packed with the bold flavors this flashy catfish recipe offers and its become a go to selection for catfish lovers everywhere. This recipe is sure to be a hit with your family and friends. Be sure to add this one to your list of recipes for the next time catfish is on your menu !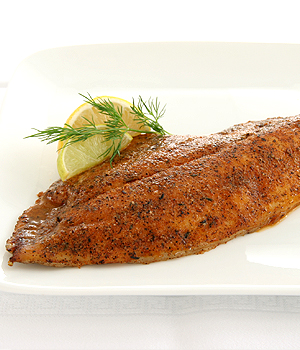 Ingredients:
3 Catfish Fillets (6-8 oz each)
1 tblspoon Olive Oil
Rub Ingredients:
1 tblspoon Paprika
1 teaspoon Oregano (dried)
1/4 teaspoon Cayenne Pepper
1/2 teaspoon Kosher Salt
1/4 teaspoon Black Pepper
Recipe Directions:
Begin by heating your broiler (can also be cooked on grill or stove top if broiler is not available). Then in a small bowl combine your rub ingredients and mix until well combined. Place your catfish fillets on a baking sheet and coat both sides of them with a little oil and then generously add your rub to both sides of the fish.
Now broil your catfish fillets for 3-5 minutes per side cooking until your fish is opaque throughout. This recipe serves 4 with a prep time of approx 15 minutes and a cooking time of 8-10 minutes.