Here is a easy and healthy catfish recipe that your sure to enjoy. We are all looking for easy catfish recipes that we can prepare with just a few ingredients that don't sacrifice taste for convenience. Many of us don't have the time to prepare more elaborate meals and want to avoid fried food when possible but we still want to enjoy our beloved catfish. This recipe accomplishes both of those things while providing tons of great taste and flavors. There is no doubt your going to love this grilled lemon pepper catfish recipe and it will quickly become one of your favorites. Grilling is not only a much more healthy option for cooking catfish but it is quicker and much cleaner then frying. Your family and friends are going to enjoy this lemon pepper catfish recipe as much as you so be ready to get request for it time and time again. Add this one to your recipe lists asap.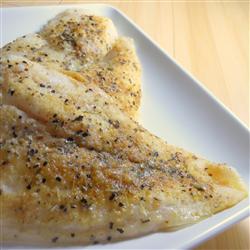 Ingredients:
4 Catfish Fillets (5-6 ounces per)
6 tblspoons Lemon Juice
1/4 cup Melted Butter
2 teaspoons Worcestershire Sauce
1/2 teaspoon Lemon Pepper Seasoning
1/2 teaspoon Sea Salt (can sub table salt)
Recipe Directions:
Begin by getting a large resealable bag and add to it your lemon juice, melted butter, and worcestershire sauce and mix well. Now add in your catfish fillets and then coat all fillets well once bag has been sealed. Allow to rest in fridge for 30-60 minutes to marinate.
When ready to cook remove your catfish fillets from the marinade and then sprinkle each fillet with lemon pepper seasoning and salt. You can now grill your fish over medium heat on your outside grill or prepare it in oven using broiler by placing your fillets 4-5 inches from heat cooking 5-6 minutes per side or until fish flakes easily with a fork. Recipe serves 4.