If your looking for the perfect catfish recipe that you can prepare and enjoy outside during those beautiful days. This healthy catfish recipe is perfect and even though it has tons of great healthy aspects it doesn't lack in flavor. We are always looking for better ways then the traditional frying of catfish so that we can have it more often and still maintain our healthy eating habits. This grilled catfish kabob recipe fits in perfectly combining the great flavor of catfish with some of your favorite vegetables. There is no doubt about it this will quickly become one of your favorite catfish recipes and you will end up preparing it time and time again. We all want to get out the grill during those beautiful days out and cook something nice and tasty up and this is a great option. It is so quick and easy to prepare that you can have it ready to go in no time allowing you to cook it just about anytime. As far as recipes for catfish goes these kabobs are going to be at the top of your list.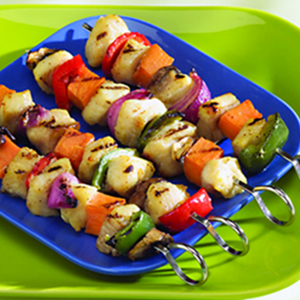 Ingredients:
1-2 lbs Catfish Fillets
1/2 cup Orange Juice
1/4 cup Canola Oil
1/4 cup Fresh Honey
2 Portabella Mushrooms
1 Sweet Potato
1 Green Pepper
1 Red Onion
1 Red Pepper
Salt and Pepper
Recipe Directions:
Cut your catfish fillets , portabella mushrooms, and sweet potato into 1-inch chunks. The cut your red and green pepper and onion into as close to possible equal sized chunks. (can sub or add other vegetables if desired)
In a sealable plastic bag add your orange juice, canola oil, honey, and salt and pepper to taste and combine well. Now add in your cut catfish and rest of your vegetables and coat well allowing to marinate for 30-45 minutes in your refrigerator stiring it around every 15 minutes.
Now using metal skewers (can sub wit wood skewers) and add your ingredients alternation 1 piece of each until skewer is filled. Discard any remaining marinade and place your catfish skewers on the grill for approx 15-20 minutes turning them about half way through. Cook until vegetables are tender and catfish flakes easily.