If you enjoy breaking out the grill and getting out and about to do some cooking then your always looking for a new recipe to test out. Why not combine your love for grilling with your love for catfish with this great barbecued catfish recipe. As catfish lovers we are always looking for new and tasty recipes for catfish and this is one you are sure to enjoy. It is very easy to prepare and gives you a chance to put your grilling skills on display for your catfish loving family and friends. There is no doubt this recipe for barbecued catfish will be a hit and asked for again and again and quickly become one of your own personal favorites. So no need to wait its a perfect time to break out your barbecue grill and give this great catfish recipe a try !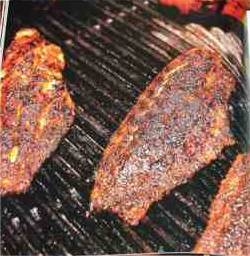 Ingredients:
6 Catfish Fillets
1 teaspoon Salt
1 teaspoon Cumin (ground)
1 teaspoon Chili Powder (medium hot – modify heat level if desired)
1 teaspoon Black Pepper (ground)
1 teaspoon Brown Sugar
2.5 teaspoon Paprika
Olive Oil
Barbecue Sauce (preferred brand or homemade)
Recipe Directions:
In a bowl combine your salt, chili powder, black pepper, brown sugar, cumin, and paprika and mix well to make the marinate. Now spread it evenly over your catfish fillets coating both side of the fish well. Place in a covered dish and refrigerate overnight or for a minimum of 4-6 hours.
When you barbecue grill is ready remove your catfish fillets from the refrigerator and coat them with olive oil. Lay each fillet on the hottest section of your grill for approx 30 seconds on each side and then move them over some to a lower heated section. Allow them to cook for 2 minutes on one side turning them over and allowing to cook for an added 2-3 more minutes or until your fish flakes easily testing with a fork.
As the fish comes off the grill you can coat them with your favorite barbecue sauce brand or own homemade recipe. Serve while hot.