Looking for a new and exciting cold weather and winter time recipe for catfish ? Well we have got just what your looking for with the Cheesy Catfish Chowder recipe. This is one of those great stick to your ribs catfish dishes that is sure to be a monster hit with all of your family and friends. This would be perfect for any time of year of course but during this cold winter days and nights this really does hit the spot.
A great way to make your catfish into one really great comfort food meal and its packed with tons of great flavors. Add to fact that it is so easy to make and you have everything you need for a go to recipe. We all want to find more healthy catfish recipes then the traditional fried catfish and this is a perfect way to get away from that old norm. So add some variety to your recipe mix and give this recipe for cheesy catfish chowder a try !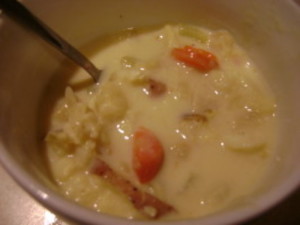 Ingredients:
1-2 lbs Catfish Fillets (cubed -1 inch pieces)
2 cups Shredded Cheddar Cheese
2 Potatoes (medium sized – cubed)
14 oz Chicken Broth
1 Onion (small or 1/2 large one chopped)
1 cup Baby Carrots (or cubed full sized)
3 cups Milk
2 tblspoons Butter
1 cup Water
1/3 cup Flour
1.5 teaspoons Salt
1/2 teaspoon black pepper
Recipe Directions:
In a Dutch Oven over medium heat on your stove add your butter and allow to melt then add in onion and saute down until tender.
Now add in your water and chicken broth along with your potatoes and carrots and cook for 10-12 minutes on medium heat until vegetables become tender.
Using a small bowl on side mix your flour and 1.5 cups of your milk and whisk well. Now add this into the dutch oven. After it is incorporated add in rest of your milk along with salt and pepper into the dutch oven and cook for an additional 10 minutes until your mixture thickens.
Now add in your cubed Catfish and stir lighting incorporating all of the fish and cook for 5-8 minutes until the catfish flakes easily with a fork.
Its time to add in your shredded cheese and stir it in well and allow to cook another 5 minutes or until the cheese has meted well through out the chowder. Can adjust seasoning to taste and Serve warm.