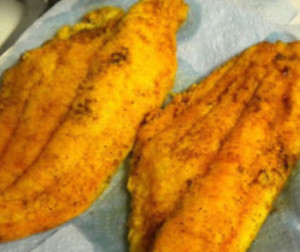 Are you a lover of catfish but want a more healthy way to prepare it ? Then this pan fried gluten free catfish recipe is just what you have been looking for. Not only is it quick and easy to prepare but it doesn't sacrifice any great taste and flavors while staying healthy and gluten free. This will quickly become one of your favorite dishes and one you can have often and not feel guilty about it. Being able to avoid the all to common and traditional fried catfish dishes is always a plus. One of the best catfish treats that you will add to your menu for so many reasons. Don't hesitate to try this one as soon as possible and get catfish back on your table in a nice and healthy way as this recipe will not disappoint. Continue your healthy eating habits with this great gluten free catfish recipe.
Ingredients:
4-5 Catfish Fillets (6-8oz)
2 Eggs (beaten)
1/2 cup Almond Meal
1/2 cup Brown Rice Flour
1/4 cup Coconut Flour
1 teaspoon Garlic (dried)
1 teaspoon Parsley (dried)
1 teaspoon Paprika (smoked)
1 teaspoon Salt
1/3 cup Light Olive Oil (can sub veg oil)
Recipe Directions:
Clean the catfish fillets and pat them dry. Now place your fillets in a dish and pour your beaten egg over them and coat both sides of each one well. Combine the rest of your dry ingredients into a separate bowl and mix it well. Now take each fillet from your egg mix and dredge it into your dry mix coating each of them completely.
Add your oil to a skillet over medium heat and allow it to get up to temperature. Now add your fillets being careful not to over fill the skillet and fry on each side for approx 4 mins or until each side is crispy and golden brown. Your catfish is perfectly cooked when it flakes easily using a fork.
Now serve on side of brown rice or any of your other favorite gluten-free side dishes for a easy and tasty catfish meal.