Looking for a great catfish recipe that you can cook all times of the year that won't keep you in the kitchen for hours or leave you with a mess then we have a great one for you here. This baked catfish recipe couldn't be any easier to prepare and is packed with a ton of flavor and even has a little kick too it that your sure to enjoy. Catfish lovers are always look for fresh new ways to get fish on the menu and this tangy baked catfish recipe doesn't disappoint. This is sure to quickly become one of the recipes for catfish that you constantly find your self ready to cook again. Your catfish loving family and friends are sure to agree that this one is a winner and best of all its also a healthy catfish recipe ! So what are you waiting for there no better time then now to give this one a try , we know your going to love it.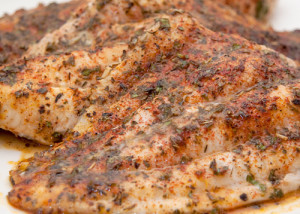 Ingredients:
2 Catfish Filets (10-12 ounces each)
2 teaspoons Lemon Juice
2 teaspoons Canola Oil
3 teaspoons Paprika
1 teaspoon Basil (dried)
1 teaspoon Tarragon (dried)
1/4 teaspoon Cayenne Pepper
1/2 teaspoon Salt and Pepper
Recipe Directions:
Clean your catfish filets well and pat then dry. Now in a bowl combine your lemon juice and canola oil and mix well. Brush the oil mixture over both sides of each catfish filet. In a seperate bowl combine all your remaining ingredients and combine well. Now rub your mixture over both sides of each filet coating well.
Place your filets on a baking sheet and bake uncovered in a 350 degree oven for 10-15 minutes depending on size of filets or until your fish flakes easith using a fork.