This is one of the better recipes for catfish that i have come tried and it combines two great seafood's. We are always looking for a way to cook our catfish in new and different ways and what would be better then adding the great taste and flavors of crab meat to accomplish just that. Here is a fabulous baked catfish recipe using a crab meat stuffing that is sure to wow you. This baked catfish stuffed with crab meat recipe is packed with tons of great flavors and is so quick and easy to prepare and cook. No doubt about it your going to love this recipe so add it to your lists now because really who doesn't like these great seafood flavors. Your friend and family are also going to fall head over heels for this stuffed catfish recipe as well making sure you prepare this one as often as possible.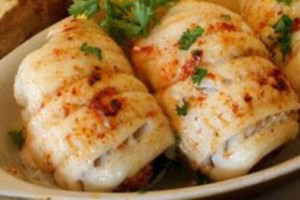 Ingredients:
6 Catfish fillets
2 Cans lump crabmeat (6 oz cans)
2 Eggs
1 Cup Bread Crumbs (Italian flavor if available)
2 tblespoons Mayonnaise
1/2 Stick Butter (melted)
1/4 teaspoon Worcestershire sauce
1/4 teaspoon Paprika
3/4 teaspoon Black Pepper
Directions:
Begin by setting your oven to 350 degrees and allow it to preheat. Now coat a baking dish (9×13) with cooking spray.
In a bowl add your lump crabmeat, eggs, bread crumbs, mayonnaise, worcestershire sauce, half of the melted butter, and 1/4 teaspoon pepper and combine it all well.
Now lay your catfish fillets on a workable flat surface and season them with your remaining amount of pepper. Then spread your crabmeat mixture down the center of each catfish fillet equally and roll each fillet then placing each seam down in your pan. Now brush each fillet with the ramining amount of melted butter and sprinkle tops with paprika. Bake for approx 25 minutes or until your fillets flake easily using a fork. Serve hot !