Looking for a catfish meal that is easy to prepare and won't have you in the kitchen for hours. Well this Crock pot Catfish Courtbouillon recipe is just what your looking for. This catfish recipe is packed with great depth of flavors and best of all your crock pot does all of the work. This catfish courtbouillon recipe is perfect for those cold days or anytime your in mood for a hardy comfort food like meal. We are always looking for a different way to prepare our catfish and this is sure to climb to the top of your favorite catfish recipe list. Your not only going to fall in love with this recipe for catfish but your family and friends are sure to love it just as much. Be sure to add this one to your recipe collection and give it a try asap.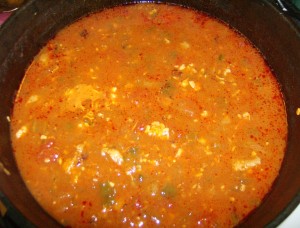 Ingredients:
2 lbs Catfish Fillets
1/2 Stick of Butter
1 Onion (Chopped)
1 Bell Pepper (small,chopped)
3 Garlic Cloves (minced)
1 Can Tomato Sauce
1 Can Ro-Tel Tomatoe
2 tblespoons Roux (any brand prepared roux)
1.5 Cups of Fish Stock
Chopped Parsley
Cajun seasoning (if not available salt and pepper)
Rice (precooked)
Recipe Directions:
Cut your catfish fillets into bite sized pieces and season them well all around with your Cajun seasoning or salt and pepper and place into your crock pot. Take your butter and add it to a skillet and saute your onions,garlic, and bell pepper until softened and then add it to your crock pot. Now add you can of ro-tel and tomatoe sauce to the crock pot. On side in a bowl combine your fish stock and roux and mix until combined and smooth and then add to your crockpot. Cook on low for 4 to 6 hours and at end add in your chopped parsley and stif well. Great served over cooked rice !