Seems the lovely Beyonce is also a catfish lover and husband Jay Z decided to cook her favorite for her while she was pregnant. Here is Jay Z's fried catfish recipe that he prepared for his wife. Everyone has their own personal recipe for fried catfish as it is the most popular way to serve this fabulous fish. But its always fun and exciting to mix things up and try someone else's recipe for catfish so why not give Jay Z and Beyonce's catfish recipe a shot. Have a celebrity themed catfish cookout for your family and friends and it is sure to be a hit !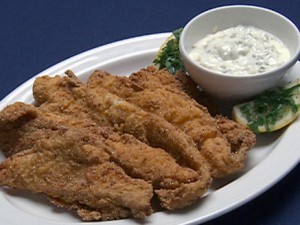 Ingredients:
4 Catfish Fillets
1 Liter Canola Oil (for frying)
3 Cups of Cornmeal
2 tblspoons Irvine spices cajun blackfish spice (can sub)
Salt and Pepper to taste
Lemon Wedges (garnish)

Homemade Tartar Sauce Ingredients:
2 tblspoons Olive Oil
3/4 cup Mayonnaise
2 teaspoons Sweet Pickle Relish
2 Scallions (minced)
Salt and Pepper to taste

Recipe Directions:
Begin by making your homemade tartar sauce. In a bowl combine your olive oil, mayonnaise, relish, and scallions and mix until blended add salt and pepper to taste and refrigerate.
Now in a deep-fryer or frying pan deep enough to cover catfish fillets and heat canola oil to 350 degrees. In a bowl combine your cornmeal, cajun black fish spice, and salt and pepper and mix until blended. Now dredge your catfish fillets in you seasoned cornbread mixture until it is lightly coated on both sides. Deep fry your fillets in small batches for approx 10 minutes each and your catfish should be cooked through. Remove and allow to drain on paper towels.
Serve hot along with tartar cause and lemon wedges.