Looking to add a little spice to your next catfish meal. If so then this catfish recipe is exactly what your looking for. This spicy grilled catfish recipe is packed with lots of great flavors and has that little kick your just going to love. It is also a healthy catfish recipe that can be prepared on the grill or inside using your oven broiler. Catifsh lovers are always searching for that next great recipe they can try wanting to mix things up a little. Give this one a try and you will not be disappointed and its one your catfish loving friends and family are going to enjoy as well. Add this to your mix of catfish recipes and give it a try the next time catfish comes up on your menu.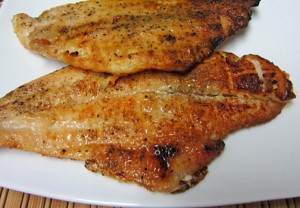 Ingredients:

4 Catfish Fillets (6-8 Oz each)
1/4 Cup Chilil Powder
1/4 Cup Brown Sugar (packed)
1/4 Cup Coriander (ground)
1/4 Cup Cumin (ground)
1 tblspoon Red Pepper Flakes
2 tblspoon Black Pepper
1 tblspoon Salt
Vegetable Oil Spray
Recipe Directions:

Preheat your Grill (can also use oven broiler)
Now make your spicy catfish rub by combining the chili powder, brown sugar, cumin, coriander, red pepper flakes, salt, and black pepper and mix well. You can store in any sealable containter in your pantry or cupboard as this recipe will make enough rub for multiple meals and will last 60 to 90 days.
Take your catfish fillets and coat both sides lightly with your vegetable oil. Now sprinkle approx 1 teaspoon of your spicy rub on each of your oiled catfish fillets coating both sides. You can adjust the amount of rub to your taste adding a little more if you want it a little more spicy. Cook on grill or under broiler for 3 to 4 minutes per side or until fish easily flakes when tested with fork. Recipe serves 4 approx prep time 10 minutes and approx cooking time 6 – 8 minutes.