A great healthy catfish recipe is always a winner and what we are often on the look out for. Combined with the recent love for fish tacos this grilled catfish taco recipe is a sure fire hit. Packed with tons of great catfish flavor yet remaining light and healthy this is a perfect combination for catfish lovers world wide. This is a must have catfish recipe and is going to be one you go to time and time again for just a quick meal at home or your next dinner party. No matter the time of year a nice healthy fish recipe always hits the spot and being able to make it using catfish is a huge plus. Your going to want to make this grilled cat fish taco as soon as you get a chance and your family and friends are going to love you for it !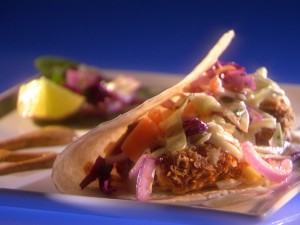 Ingredients:
4 Catfish Fillets (6-8oz each)
1 tblespooin Canola Oil
1 tblespoon Chili Powder (hot or mild)
1 tblespoon Lemon Juice
1 Flour Tortillas (10 inch)
Lime/Lemon Wedges

Slaw Ingredients:
2 cups Coleslaw Mix (prepared)
1 cup Red Bell Pepper (thin sliced)
1 cup Orange sections
1/2 cup Red Onion (thin sliced)
2 tblespoon Canola Oil
2 tblespoon Rice Vinegar

Directions:

To prepare the Slaw combine all ingredients into a bowl and gently toss until well combined and the place in fridge covered to chill.
Begin by preheating your grill. Now in a bowl combine your chili powder , lime juice, and oil and combine well. Now brush the oil mixture over both sides of your catfish fillets making sure to coat well. Spray grill surface well with cooking spray or use a grill rack well coated with spray and place your catfish fillets on it. Grill your catfish for 6-8 minutes per side until your fish flakes easily using a fork.
You can either place 1 fillet whole or break catfish fillet up into bite sized pieces and place into tortilla and top it with 1/2 – 3/4 cup of Slaw over it. Now squeeze a bit of lime or lemon over top and serve. (Optional: garnish with cilantro)