If your a catfish lover then of course you love catfish nuggets. It is one of the most enjoyed ways of preparing catfish and we are always on the look out for great new ways to do it. Here is a great baked catfish nugget recipe that your going to fall in love with. These crispy baked nuggets are packed with tons of flavor and couldn't be any easier to prepare. Kids go crazy for these things and its okay because this is a healthy catfish recipe you won't mind them enjoying. With many of us trying to avoid fried foods when ever possible these baked nuggets are a perfect replacement. Add this recipe to your list as soon as possible and it will quickly become one of your favorite go to choices. Your family and friends are going to want you to make this one again and again.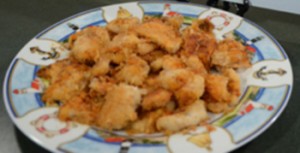 Ingredients:
4 Catfish fillets (6 to 8 oz) cut into nuggets
1/4 cup Parmesan cheese (finely grated) can sub:extra sharp cheddar
1/2 cup Breadcrumbs
1/4 teaspoon Garlic powder
1/3 cup Lemon juice
2 tablspoon Olive oil
1 tblspoon Paprika
1/4 teaspoon White or Black Pepper
Recipe Directions:

Preheat your overn to 400 degrees. Spray a baking sheet thoroughly with cooking spray and set aside. In a bowl combine your breadcrumbs, grated cheese, garlic powder, and pepper and mix well. In a seperate bowl add your lemon juice and olive oil and mix until well combined. Dip each nugget into your olive oil mix coating well and then roll each nugget into your breadcrumb mix and then dust lightly with a pinch of paprika. Bake for 10 minutes at 400 degress and then lower oven temp to 350 degrees and bake an additional 8-10 minutes until coating is golden brown and fish easily flakes. Remove and serve hot.