Here is another great catfish recipe with a little twist we are always looking for. Not only is this recipe quick and easy to prepare but it packs a ton of great oriental flavors. This is one of the better grilled catfish recipes i have tried in quite some time. Your sure to enjoy this oriental grilled catfish so be sure to add it to your list of recipes as soon as possible. Catfish lovers are always looking for a fresh and exciting way to add different flavor profiles into their catfish dishes and this one is a home run. This oriental grilled catfish recipe will quickly become one of your favorites along with your catfish loving family and friends. And being a healthy catfish recipe makes this one all that more appealing.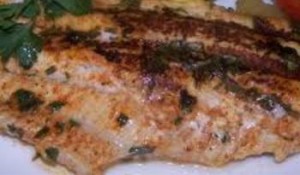 Ingredients:

4 Catfish Fillets
1/4 cup Soy Sauce
3 tblespoons Lemon Juice
2 tblespoons Sesame Oil (dark)
1 tblespoon Ginger (fresh grated)
2 cloves Garlic (minced)
Salt and Pepper

Recipe Directions:

Clean and dry off all catfish fillets and set aside.
Now in a non-metal bowl add your sesame oil, soy sauce, lemon juice, ginger, garlic , and a pinch of salt and pepper and combine well. Remove 2-3 tablespoons of your marinade now for basting later. Now add your catfish fillets to your marinade being sure to coat them well on all sides. Cover and place in refrigerator for 30 to 45 minutes.
On a well greased medium hot grill cook your catfish fillets for 3-5 minutes per side basting fish with reserved marinade during cooking process. Cook until fish flakes easily using a fork. Remove and serve warm.