Looking for a unique way to prepare that catfish you have making it tasty and delicious. This catfish stir-fry recipe may be just what your looking for. We are always looking for new ways to cook up the catfish we enjoy so much adding new taste and flavor profiles. Sure we can fry or bake it and that's great but now and then we all want to change it up some. This catfish recipe is sure to be a hit not only with yourself but with your catfish loving friends and family. Being a healthy catfish recipe only makes this one that much better and a must add to your list of other great recipes for catfish that you enjoy. So be sure to try this stir-fry catfish recipe as soon as you get a chance and im sure you will love it as much as i do.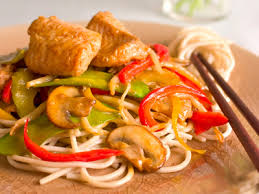 Ingredients:
1-2 lbs Catfish Fillets
3 tblespoons Soy Sauce
3 tblespoons Vegetable Oil
3 tblespoons Lemon Juice
1 Cup Carrot (sliced thinly)
1 Cup Zucchini (sliced thinly)
1 Cup Broccoli (sliced)
1 Cup Mushrooms (sliced)
1 Cup Cauliflower (sliced)
2 Tomatoes (medium – peeled cut into eighths)
3/4 Cup Green Onion (1/2 inch pieces)
2.5 tblespoons Cornstarch
3/4 Cup Water
1/4 teaspoon Pepper
1 teaspoon Salt
Cooked Rice
Recipe Directions:

Cut Catfish into 2-3 inch strips. Combine your soy sauce and lemon juice in a bowl and and add in your catfish strips letting them marinate for 20-30 minutes.
Heat a large skillet or wok to medium high and add in 2 tablespoons of your vegetable oil coating pan well. Now add in your carrots and allow to cook for 2 minutes. Now add your zucchini, broccoli, cauliflower, mushrooms, green onions, and tomatoes and allow to cook for 2 – 3 minutes. Transfer veggies to a bowl or plate and set aside.
Add 1 tablespoon more of oil to your pan and allow it to heat. Remove your catfish from marinade and allow it to drain reserving the marinade. Add fish to pan and cook for 2-3 minutes until the catfish begins to flake. Now transfer your veggies back to the pan and mix well. Now add in your water, cornstarch, salt and pepper to your reserved marinade and add to pan mixing in well. Bring heat down to low and cook for an added 2-3 minutes or until mixture has become thick and bubbly.
Serve immediately over hot cooked rice.